"Unlock the power of your iPhone camera with MoviePro. Used by over 1 million users including Amateurs, Business users, Professional Videographers, Filmmakers, Vloggers, YouTubers, Content publishers, etc."
MoviePro App features and all the details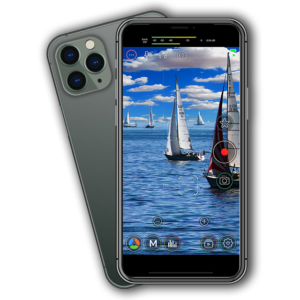 MoviePro camera app presents you innumerable options for recording that the native camera fails to offer. Whether you are a casual user who wants to record a good quality video with the ability to Pause/Resume with great stabilization & select Audio from a USB or a Bluetooth microphone and share the recordings on YouTube, Dropbox, or your computer. Or you are a Professional videographer who wants complete control over the image using Manual focus/exposure along with tools such as Focus Peaking, Zebras, Histograms, Waveform, or Vectorscope. As innumerable the use cases are, if you take videos with iPhone, chances are that you would have a compelling reason to use MoviePro for your recording purposes. Not only this, MoviePro camera could be controlled from another iOS device using MoviePro Remote app which is free to download. Useful for recording live events, recording from devices placed in car mounts, possibilities are endless.
And on newer devices (iPhone XR/XS or later), you can simultaneously record with Front and Back camera at the same time that is great for recording you reaction in the scene. And if you are a Filmmaker, you would find it compelling to simultaneously record from Ultrawide & Telephoto cameras and work with the best take in post production.
MoviePro App version 7.0 Tutorial
MoviePro App v7.1 iTunes File sharing on Mac OS Catalina
MoviePro DEEP DIVE Tutorial – Every Feature Explained
Have been using this app for a number of years and it is the best in it's class of video recording apps. It is very easy to use and it has advanced features which are intuitive.
It shoots better than my jvc 4K cam
I love the Moondog Anamorphic Lens & DJI Osmo Mobile compatibility, which has allowed me to make amazingly cinematic videos on an iPhone! I love the slide focus.
This is a great app for recording sporting events and then uploading the videos to Hudl or Krossover. The functionality is intuitive and easy to perform.
. . . you have made MoviePro the champion of iOS video apps. I have experimented with a number of iOS video recording/remote control app packages. Marketing promises notwithstanding, the only one that I have found to be reliable under "field" conditions has been the MoviePro/MoviePro Remote set of apps.
"The stabilization function changed my life."
"Apple should buy this and make it iOS default. Best video recorder by far its feature rich and the developer keeps it updated unlike others who abandon their apps pretty quickly. Well worth the money"
This transforms your phone into a far more powerful recording device !
As close to turning your iPhone into a professional video camera as you can get.
What resolutions are supported by MoviePro?
MoviePro unlocks all the supported frame rate and resolution combinations supported by the chosen lens (front, back, Ultrawide, Telephoto). The settings menu allows you to choose from a list of 14 base resolutions (4K all the way to 320x180) and further apply 15 different Aspect ratios to it thereby supporting 14x15 = 210 resolutions.
What frame rates are supported by MoviePro?
The Fps menu in the settings allows you to choose from a list of normal fps (30 fps to 1 fps) and also from a list of high fps (240, 200 fps, 192 fps, 120 fps, 100 fps, 96 fps, 60 fps, 50 fps, 48 fps). Select 30 fps for US (NTSC), Australia/UK (PAL) 25 fps, and 24 fps for Film making/cinema.
What are the good settings for recording good quality video?
The default settings (1080p@30 fps) are good enough for most class of users. You could optionally select 150% video quality (bitrate) in video encoding settings but remember higher bitrate comes with higher file size.
The most powerful video recording & film making app with innumerable options as seen on TIME, AppAdvice, TUAW, Mashable, Bloomberg Radio, Indiewire, Slashgear, Dailynews, Boingboing, iMore, 148apps, iClarified.
Have a suggestion or query drop us a line!